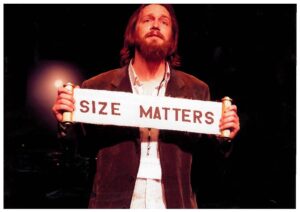 Click the photo for a promo video clip
A two-act comedy covering men's issues – everything from circumcision to prostate cancer – told through a series of monologues and vignettes.
"…clever, humorous, and meaningful. …a fantastic and important show disguised as a romp…" – Davenport Theatrical, producer of Avenue Q and Kinky Boots
"I learned a lot and laughed my ass off!" – Nashville, Tennessee
"Phallusies is our Pick of the Week" – Las Vegas City Life
"Funny … a generous supply of laughs." – Las Vegas Review-Journal
6m Requires only a bench and (large screen) video monitor or rear-screen projection.
Royalty: $40/$30
Perusal script available. Printed & snail-mailed: $10 plus postage. Digital in PDF: Free.
Short plays
The Tryst (comedy) – this two-person, any gender, fast-paced play features an ongoing clandestine affair between religious figures. Stage requirements: a double bed. Royalty: $5
Fusion (drama) – In juxtaposition, then jointly, two victims of the 9-11-2001 World Trade Center attack (one a passenger, the other an executive) appear as ghosts,  at a memorial service to wonder what sin they committed to be there at the moment of impact. 1m, 1f Stage requirements: empty stage. Royalty: $5
Perusal Scripts available in PDF only.
Works in progress
Transgressions (drama) – A young priest confronts an older priest who helped the Church protect those who preyed on young men. 2m Stage requirements: Confessional, some pews. During the June 2020 Play Challenge, Davenport Theatricals praised the script as "solid, strong characters with unexpected layers, and themes."